The Bulletin of Civil-law notaries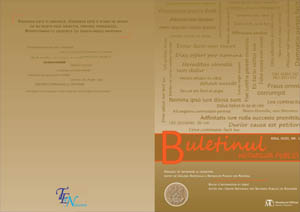 The Bulletin of Civil-law notaries
is edited by the
National Union of Civil-law Notaries
as a periodic report for information and debates for issues in notarial matters, appears and is distributed regularly, through the editorial team care, in six annual numbers. The Bulletin of Civil-law notaries has in its content theoretical and practical analysis, information reflecting present issues and views of notarial activity. The approach of matters of law, both from a theoretical and practical point of view, led to the creation of a publication with a special content that customizes itself in the legal professional publishing environment. The initiative of the publishing team to translate, in a summary, in French, some articles that contain studies of notarial legislative or notarial practice, echoed among foreign readers who have welcomed this idea.
At the beginning of the year 1999 it was decided to publish a supplement of the Bulletin of Civil-law notaries named "The activity of the Union". The appearance of this Supplement is to exclusively inform notaries on internal regulatory acts issued by the Council of the Union, the Executive Bureau and President of the Union. Among the pages of this Supplement is inserted the section "internal agenda" that comprises meetings between the management of the Union and Romanian and foreign legal figures; press conferences at the Ministry of Justice; colloquiums and symposiums organized by the Chambers.
Notaries in the European Union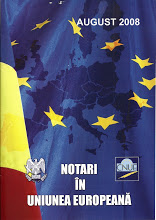 Our publication is a specialized magazine, edited by the National Union of civil-law notaries of Romania and it is addressed to all the members of the notarial profession and to governmental and non-governmental partners thereof. The magazine regularly reports news from the community political and legislative topicality of interest for notaries from Romania. It offers them presentations and analysis of European legislation of direct applicability in the field of notarial competencies (successions, matrimonial regimes, etc.), but also complete information over legislative initiative and politics likely to influence the status of the profession of notary.
At the same time, the magazine has made it a priority to present the activity and projects of the Council of the Notariats of the European Union, the organization representing the profession at the EU level, to which the Romanian notariat belongs since 1st of January 2007. The UNNPR Bruxelles Bureau is the one transmitting new materials for the creation of this magazine, under the guidance and support of the Editorial Board of the Bulletin of Notaries Public.
Since 2007 we tried with the «Notaries in the European Union» magazine to bring Europe on the work office of each civil-law notary in Romania. We tried to present good practices from the activity of other notariats from our continent, legislative information useful for the practitioner, analysis, reports, synthesis, most of them related to decisions made at Bruxelles and that address directly to notaries and beneficiaries of their services – citizens and family.